Art at Volmoed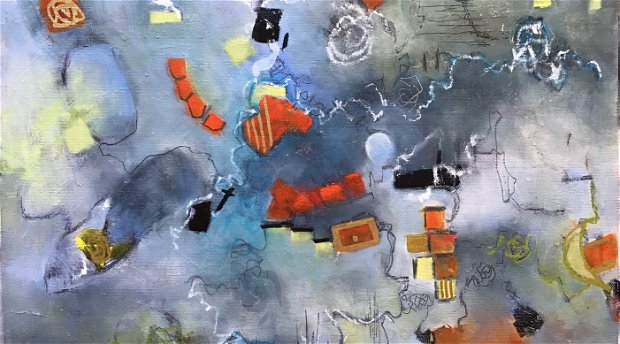 Alyson Guy who joined the Volmoed Community in 1994, has always been involved with Art in various forms since school days. In 2005 they moved into their new home "Die Nessie" on Volmoed.
Through being involved in the local Hermanus Art Society, others got to hear about this space for art at Volmoed. A group of friends started meeting to paint together with Alyson – Audrey Hickman, Christa Clark, Isobel de Gruchy and Erna Dry.
Several groups who have booked retreats on Volmoed have requested the Art ministry to facilitate creative time eg: Chris Spies & Unyoke, Lionel Louw & Anglican priests, DRC ministers from Bloemfontein and now also the VYLTP groups.
Numerous of Alyson's artworks can be found decorating the guest cottages and other facilities on Volmoed.
Audrey Hickman took up the role of art teacher in 2018.

Classes are limited to maximum of eight people per session, and each person is expected to pay for a minimum of two sessions per month.
A limited supply of assorted materials are available for Beginners, but ideally you are expected to provide your own.
The Artroom is equipped with easels and work tables, a sink, tea/coffee station, a couch and a library of assorted books which you may borrow. There are numerous sources of reference material to spark the imagination.
The setting on a farm also holds many opportunities to paint outdoors if you wish.
During the Hermanus FynArts Festival each June, we hold an exhibition in the Conference Room of selected work with a relevant theme.
Saturday afternoons have evolved into a shared Free Painting session for interested friends of Alyson and Audrey. Please contact either of us to arrange this.
Contact Details
Alyson Guy
084 510 0952
Audrey Hickman
083 953 4088
Volmoed Artroom
Situated on Volmoed
Farm 11, Hemel-en-Aarde Valley Road (R320), Hermanus 7200
028 312 1282 / www.volmoed.co.za
Volmoed Artists
Alyson Guy the artist
@artyaly
@indibelle.audi
Fees
R200 per class
with a minimum of 2 classes per month
Class times 2023
Mondays:
2.30 – 5pm Alyson
Tuesdays:
10am – 12.30pm Audrey
2.30 – 5pm Audrey
Wednesdays:
10am – 12.30pm Alyson
2.30 – 5pm Alyson
Thursdays:
10am – 12.30pm Audrey
Open session
First Saturday 2 – 5pm Free, but please
of the month book your space
(max 8 people)
Monthly Workshops
Once a month a different workshop will be held for those interested in learning new techniques.
information re date, times, subject and cost will be communicated via WhatsApp.
Possible projects
• Colour mixing
• Watercolour technique
• Pastels
• Loosen up with still life
• Portraits
• Collage and mixed media
• Composition and perspective
• Grisaille and the Zorn palette
• Palette knife painting with oils
• Preparation of painting surfaces
• Abstract painting 1, 2 & 3
• Creating cards with line and wash
• Freestyle with inks
• Miniature painting
• Acrylics: various ways of handling them
• Drawing methods and techniques
• En plein air sketching and painting
Please feel free to discuss additional areas of interest that you would like to explore further with us.